By
Anaya Norton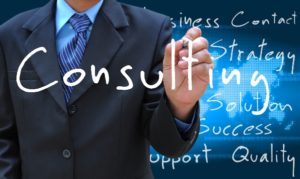 Business consultants of all varieties are becoming increasingly important in today's business climate. Offering years of experience and high-impact advice for businesses of all sizes, highly skilled IT consultants will offer a cost-effective solution to having a full staff of pricey experts.
While an IT department or on-site IT professional is necessary for many types of large corporations, the truth is that all businesses – even small start-ups – are able to access the kind of skills and advice offered by information technology experts. IT consultants, which can take the form of a single professional offering independent contractor services or a business that handles all your information technology needs, step in to fill your technology gaps at a fraction of the cost of a full-time employee.
Save Money with IT Consultants
Most IT consultants offer their services on an hourly or contractual basis. Depending on what your needs are – whether you need regular backup services or one-time network security setup – you might find yourself tapping into a consultant regularly or for short-term projects. Both of these options allow you to control the cost of your IT solutions.
Because you're hiring outside your company, you also avoid paying the taxes and fees associated with having a staff member solely for your technical needs.
Save Time with IT Consultants
IT consultants are also able to streamline the way your company does business. For example, if you're working on an overloaded server, your employees may not be able to communicate and work online as quickly as they should. The same is true if you lose important data or experience downtime with a server or network. Redoing work or simply waiting for a solution to a problem can really cut into any business's bottom line.
Good IT consultants are on hand at all times. They can access your network and backed up data to get you and your employees back on track. They come up with solutions before a disaster occurs so that you are prepared for any eventuality.
Increase Productivity with IT Consultants
Perhaps the most important thing IT consultants do is allow you and your employees get back to what you do best. For many businesses, repairing a server or backing up data is something they could do themselves. After all, the Internet is awash with how-to articles and advice on being technologically up-to-date.
However, savvy businesses know that specialization is what makes good business. You hire plumbers to do the plumbing, marketers to do the marketing, and managers to do the managing. While some cross skills are helpful, it's rarely cost-effective or a good use of time to have a customer service specialist try his or her hand at getting the server up and running again. Having IT consultants you trust means that you always have access to a way to streamline business without overtaxing your employees or your finances.